This whole idiotic incident that took place lately killing almost hundreds of people, destructing properties of millions of values and causing completely unreasonable inconvenience to the people by the blindly superstitious and crack-brained followers of DERA SACHCHA SAUDA chief Gurmeet Ram Rahim has just shown, that how a certain section of humans are repeatedly being stirred towards the insane and illogical direction of pseudo-spirituality; even after many fake names had been uncovered of their hypocrisy earlier already. And then these kinds of issues not only cause to lead the imbalance in the system for current but somewhere leaves an uncalled vibe of negativity towards even the positive aspects of the true sides of spirituality.

IMAGE SOURCE
It's a highly unfortunate but debatable issue that how characters like Gurmeet Ram Rahim, Asaram Bapu and many others build their follower-ship? Because very ironically crucial fact to look upon is that the followers who are actually responsible for the demurral and unacceptable outrage are among us. Hence, if these so called spiritual leaders won't get their followers we won't see any waste of mass energy in form of protesting for a rapist. But the question again remains there, "How do they build their followership?". We do need to look into the making and building of the follower-ship to understand the reason where we as a follower are heading wrong.
I will try to explain my solution over that after having a brief over DSS and Gurmeet Ram Rahim. Now talking about DSS and its chief Gurmeet Singh in brief we have an organization founded late back in 29th April 0f 1948 by some man named Shah Mastana Ji for the purpose of well being for fellow humans through the spiritual processes and later on the legacy for serving people through spirituality transferred to its third and currently rape convicted chief Gurmeet Ram Rahim, who is also under the investigations of law authorities for equally serious charges of murders.  There are no abnormalities you may find, if listen to the briefs of DSS, however, to look for the solution there are always three perspectives through which we generally look at any spiritual guru: the personal self, the work and the kinds (nature) of followers. And let's just go through them to seek for the solution of a much-needed question, India has an extremely rich history of true spiritual gurus in the past who have actually been the reasons for sustaining humanity; but in recent days just to attain the lavishness, we are seeing many people are coming up as Godman.
 See, the work perspective can be faked up immensely to just deceive the crowd as it requires only money not even the intentions. So we do need to skip this perspective entirely for looking up at a spiritual guru, and then comes the personal self, now for that we all need to truly understand what we are seeking for, spirituality or the comforting outcomes of it? Because, if worldly outcomes had been the reason of inner peace then the richest of people would have had been at most peace, which is apparently not true in every rich's case. And a guru can never be the one who teaches you to depend on worldly and temporary benefits for the temporary peace and happiness; he is the one who would help you to grow as a person, as a seeker for life, as a helper for others and as a consciousness for self. Thus we must understand these aspects firstly for spiritual seeking. And I don't see any sign of these in a man like Gurmeet Ram Rahim. Well he can be an amazingly manipulative speaker, a mass puller but not a spiritual guru.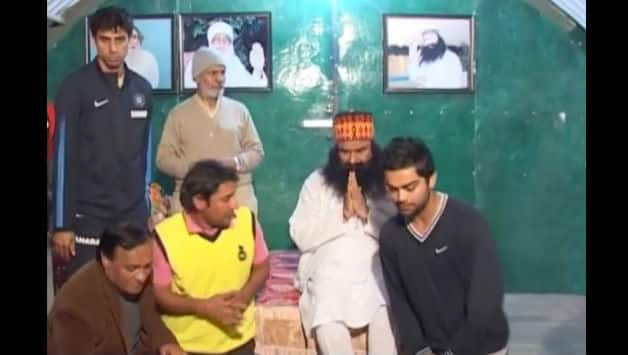 Lastly comes the nature of follower-ship, and this is super easy to understand; this just should not be a perspective for looking at a guru cause the energies transferred by one being can never be received in exact frequencies by the other. And also there are always personal benefits attached to a follower being a follower in general. Since, there is always a distortion in the transmission and interpretations because of environment filled with distorted elements around, the energies must be received with self.
And to be very true on certain points there is always a clear difference between the fake and the real for the eyes of clarity to see. So knowing the self can be the only way to spirituality not through any other means and that we must have to understand.